university of New Brunswick
The shoot went very well, we had a great turn out. We spread the word by sharing pictures from last years shoot and shared it through the various law school groups as well as word of mouth. We also offered for $5.00 headshots that we would email the students as a fundraiser for the UNB Feminist Association. We set up in the lounge for the majority of the day - with volunteers and photographers taking shifts. We think by showing previous years, offering the headshots, having the event schedule for most of the day, and spreading the word by chatting with people we were effective in making the event interesting and accessible.
This photo campaign was run by UNB Feminist Legal Association with photography by Kathleen Adams, Shayna Levine-Poch and Rebecca Nobel and graphic design by Ines Hamam .
Law Needs Feminism Because "Gladue Reports are not checklists."
Law Needs Feminism Because "the world does!"
Law Needs Feminism Because "We've seen more outrage this year over commercial ads than decades of wage inequality"
Law Needs Feminism Because "Without equality, justice is a legal fiction"
Law Needs Feminism Because "It's 2019 and we are still having this discussion."
Law Needs Feminism Because "I have never had to compare the compatibility of my career and my family."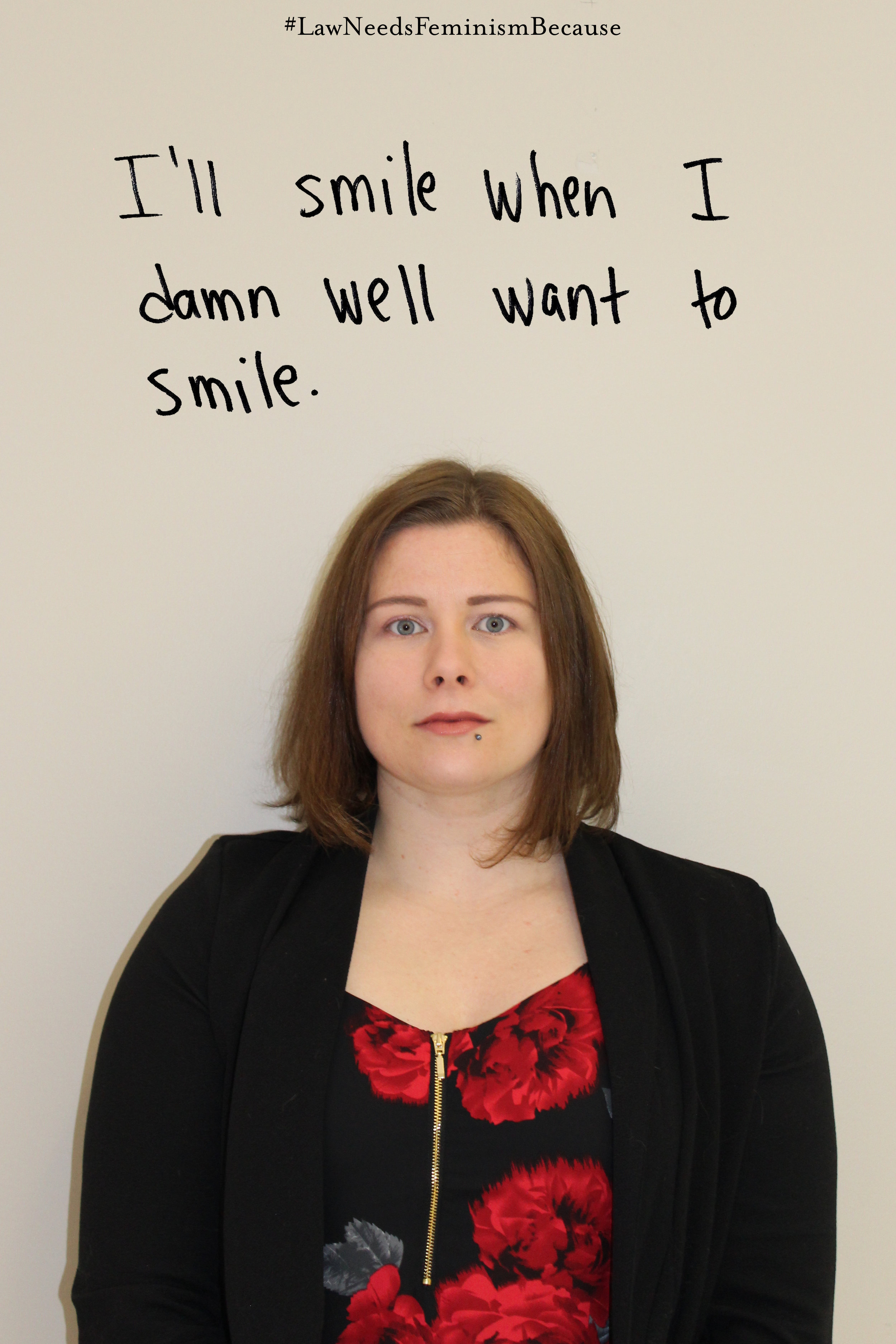 Law Needs Feminism Because "I'll smile when I damn well want to smile."
Law Needs Feminism Because "Someone once asked me if it's unprofessional to not wear makeup to work."
Law Needs Feminism Because "Equal pay for equal work is a no brainer."
Law Needs Feminism Because "Without it, equality is a legal fiction."
Law Needs Feminism Because "Equal rights for others does not mean less rights for you, it is not a pie."
Law Needs Feminism Because "Gender should not be a barrier to justice."
Law Needs Feminism Because "Taxpayer Rights are for everyone. #TaxRightsCAN"
Law Needs Feminism Because "If everyone is subject to the law, the law must reflect everyone."
Law Needs Feminism Because "Justice without equality is no justice at all."
Law Needs Feminism Because "Most transgender persons are now disqualified from (U.S.) military service)"
Law Needs Feminism Because "The status quo is not good enough"
Law Needs Feminism Because "it just does"
Law Needs Feminism Because "1 in 3 women will experience sexual violence in their lifetime, yet only 1 in 10 sexual assault cases result in a conviction."
Law Needs Feminism Because "Justice requires all perspectives."
Law Needs Feminism Because "Women work harder to meet the same billable hour."
Law Needs Feminism Because "Gillette is not going to save the world."
Law Needs Feminism Because "Equality is not a concept. It's a necessity."
Law Needs Feminism Because "Empowered women empower women."
Law Needs Feminism Because "Judges are not always neutral arbiters of neutral laws"
Law Needs Feminism Because "The women in my life deserve equal opportunity."
Law Needs Feminism Because "We accomplish more together than we do apart."
Law Needs Feminism Because "The law is not immune to rape culture."
Law Needs Feminism Because "Girl bosses should just be bosses"
Law Needs Feminism Because "9 in 10 sexual assaults go unreported."
Law Needs Feminism Because "Women are still more likely to drop out of the legal profession than their male counterparts."
Law Needs Feminism Because "20% of firm partners are female."
Law Needs Feminism Because "I believe in equality for all people."
Law Needs Feminism Because "It informs law's most important project- how we'll live together."
Law Needs Feminism Because "Everything does?"
Law Needs Feminism Because "Because every tool is a weapon if you hold it right."- Ani Difranc
Law Needs Feminism Because "More than half of law students are women, less than a quarter of partners are"
Law Needs Feminism Because "1 judge could be what stands between me and rights over my own body."
Law Needs Feminism Because "Who doesn't"
Law Needs Feminism Because "RBG's face during Brett Kavanaugh's swear-in says it all"
Law Needs Feminism Because "I deserve the same opportunities as men to advance in my career."
Law Needs Feminism Because "We need many voices"
Law Needs Feminism Because "We love our moms"
Law Needs Feminism Because "not female law student not female professor not female ceo. Let our actions define us."